At The Grind, we talk a lot about how important it is to surround yourself with the right people: smart people, hard workers, mentors, people who've done what you want to do, people who are perfecting their grind in your same field, etc. As my son Chris reminded podcast listeners recently, "You are the average of the five or six people you surround yourself with."
I've also talked about how this same mentality applies to hiring your team, but today I want to go one step further and talk about what it's like to manage a team of great people.
It may seem straightforward but think about it this way. If I hire a diverse group of characters who are passionate about what they do, A-type people all with diligent work ethics and entrepreneurial spirits, how are all of those big heads going to fit into a room together?
There's a difference between a group of rock stars and a band. Or, to put it more in terms my sports-loving readers will understand, there's a difference between a roster and a team.
Coach a Winning Culture
The significance of this idea has been at the forefront of my mind since going back to The Gold Standard: Building a World-Class Team, all about Coach K's transformational coaching tenure with the USA Basketball Team.
For those of you who are unfamiliar, Duke's Mike Krzyzewski was head coach of the Olympic basketball team for Team USA for ten years. During that time, the team won several honors and accolades, including five Olympic gold medals. Though nearly every member of the team was accomplished and celebrated in their own right before stepping into the Olympic "arena"—including Coach K—together they transformed the way our country saw these men, instilling a sense of pride that only Olympic victory can do.
There are a lot of lessons that you can take from Coach K's contributions to the sport, but what sticks with me is the unbreakable unit that this team became under his leadership.
As one reporter at the time put it,
"There was also no infighting, as far as anybody can tell, and nobody looking for somebody to blame. Krzyzewski talks about 'collective responsibility,' and his teams at Duke and in the Olympics display it. He has an unparalleled ability to get people to believe what he says and do what he wants, no matter how talented they are or how much money they make. That is the definition of great coaching."
I'd like to add "and leadership" to the quote above. To me, this is also the definition of any great leader.
In business, a great manager can make every member of their team feel needed and respected for what they bring to the table, while eliminating competition or rank between peers. When they push one person to do better, it's for the betterment of the team as well, and so everyone is encouraged to lift each other up. On the flip side, there's no finger pointing, because when one of us drops the ball, we're all on the line for it.
That's how you win as a team.
Setting an Example
Oftentimes, the idea of "team" roughly translates into family at REI Nation. It's easy to do, especially with so much of my family working alongside me, and so many team members that have been with us for years, even decades.
That can perhaps feel intimidating to our newer hires, like they've been adopted into a strange new family tree of unfamiliar faces. That isn't the kind of situation everyone warms up to right away, regardless of how welcomed they might be.
I imagine that's how a new addition to the USA basketball team might have felt, joining after a big Olympic gold win.
That's why teams can't just be cohesive. They have to be flexible, too. They have to adapt when things change, when the team shrinks, or when it grows.
I count on every person in our company to look out for each other, to welcome every new face as if they are going to be the one who's going to take us all the way to gold. It's become a tradition at REI Nation and PPMG to introduce every new hire to the entire company using our online messaging platform, Slack. We share their picture, a little bit about them, and what role they'll be stepping into. After that, a host of hellos and other welcoming messages follows, and connections are made.
It's not an Olympic-level ritual, but it's one that reminds us that we're all on the same team.
Commit to The Grind
Setting an example isn't just for our longer-standing team members. It's on everyone to create the kind of culture that our company is proud of.
Besides, when it comes to excellence age is just a number. I should know that more than anyone.
We all have something unique to give, and we all have the choice to work elsewhere. But when you work here, it means something.
It means you're excellent and passionate about what you do. It means we see leadership qualities and endless potential in you. You may not be an Olympic athlete, but you share a lot in common with them.
So, work like the world is watching.
Until next time,

Kent Clothier
Chief Grind Officer
About Kent Clothier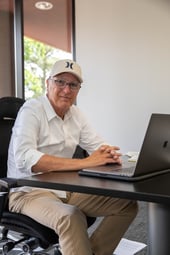 Entrepreneur, Real Estate Investor, Husband, Dad, and Granddad. Through decades of personal experience, and a few other titles, Kent built a strong community around him at REI Nation. But it didn't start there. It took 22 years of entrepreneurship – of losing money and making money, building small businesses and multimillion dollar companies alike – before he founded a family business-turned-empire. His sons Kent Jr, Chris, and Brett have worked alongside him, as well as leading successful ventures of their own. Real estate trends, managing towards efficiency, excellent customer service and leading the industry are what fuel him. Over the years, the skills he's come to value are financial acumen, honesty, and forging new paths in business, investing, and winning.