Last week, our company came together for our All Hands Team Meeting. It's nothing fancy. We all show up in the same casual attire and dedicated mindset that we do everyday.
The only expectation is that everyone sets aside the time to be present, because this is one of the few opportune moments we get as a whole team to be together, to look back at the last six months, see how we're performing, and get clear on our course for what's to come.
This time, however, we did things a bit differently. We covered the numbers as usual, but I wanted to spend the bulk of our time together reminding this team just who we are. As I've said before, the growth of this company requires an eye on company culture, and every single person working here has to understand what we're about, especially if they're going to make us better.
There's no one out there doing what we're doing, and at this high a caliber, in the real estate investment space. Sometimes you don't realize you're a category of one until you pause and take a good look around.
Being the Best at What Matter's Most
Sometimes you need someone to remind you of what category you're in, too. That's why I held up a book in front of everyone written by Joe Calloway, a renowned business leader, researcher, and author who came to visit us about ten years ago and quickly became a family friend.
Not long before his visit, Joe released one of his most noteworthy books, Becoming a Category of One: How Extraordinary Companies Transcend Commodity and Defy Comparison. Then, our company made a cameo in his next, another standout book: Be the Best at What Matters Most.
Here are just a few things he had to say about us:
"After 30 years of working with some of the best companies and organizations in the world, it takes a lot to impress me. This little company in Memphis, Tennessee, absolutely knocks my socks off."
"…[T]hey've made it simple. What matters the most are the fundamentals of real estate investing and the fundamentals of great customer service. That's it. Two things to think about. But they think about those two things all the time. It drives their priorities and keeps them laser focused on flawless execution."
"Although there are many aspects to the [company] culture, when you talk with the employees there, it's obvious that a focus on the customer is a core value, and it drives everything that they do. . . . I'm impressed by how everyone. . . seems to have clarity on what the priorities are, who's responsible for what, and what has to be done every single day."
"Founder Kent Clothier made clear in these [daily] meetings when he was not satisfied with any aspect of the team's performance, and he made very clear that everyone was 100 percent accountable for producing results. He did this in a way that was both demanding and supportive."
I'll also provide a quote Joe included from my son, Chris: "We do not especially like meetings but recognize the absolutely necessity to keep everyone on the same page and fully informed. Meetings are often our opportunity to continue teaching not only leaders but any staff members present our business operational philosophy. We have found that keeping people informed, providing a forum for feedback, and being transparent with the direction we as owners want to go builds a strong team, and that is what we have."
Sound familiar?
It's clear Joe knows what he's talking about, and has had a successful career because of it. His perspective is invaluable and—most importantly, in light of all of the team members who've joined us since Joe's visit a decade ago—still rings true.
"Is This a Southern Thing?"
Our company culture has impressed more than Joe Calloway. I've mentioned before how often we welcome visitors of all kinds through our office, our "open door" policy an important part of our brand and operations since our beginning.
These visitors are not only individual investors who have bought or are interested in buying a property with us. They also include corporate investors and bankers who want to immerse themselves in our company and see how to learn from us—if not partner with us.
As standard practice, these visitors are introduced to every member of the team present in our office, from accounting to customer service to rental leasing agents and so on.
During a recent visit, by the time their tour had come to an end our guests were as puzzled as they were impressed. They noted how consistently they were greeted with smiles, handshakes, and conversation. Every person said with confidence who they were and what they did at our company.
"Is it just—people in the South?" they couldn't help but wonder aloud.
I had to laugh.
No! Of course we take Southern hospitality seriously, but I would expect the very same whether our offices were in Memphis and Dallas or New York and Hong Kong. This is who we are and who we've always been.
I shared this funny conversation with our entire company last week. I had two reasons for doing so: 1) to pat them on the back for all the little things they do that have big impact, and 2) to encourage them to keep it up. That's what our meetings are about, after all.
Commit to The Grind
If the last ten years haven't tested our mettle, the next wave of the economy will. I've reminded our entire company, loud and clear, that we embrace the challenge. The uncertainty of what's to come isn't keeping me up at night.
Am I concerned? Of course! I would be doing our team members, clients, and vendors a disservice if I wasn't. I know, though, that our team can handle anything thrown at them.
I love moments like these, when who we are and what we can do are thrown into the crucible, because now I get to see how bright we shine.
Until next time,

Kent Clothier
Chief Grind Officer
About Kent Clothier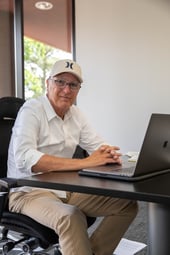 Entrepreneur, Real Estate Investor, Husband, Dad, and Granddad. Through decades of personal experience, and a few other titles, Kent built a strong community around him at REI Nation. But it didn't start there. It took 22 years of entrepreneurship – of losing money and making money, building small businesses and multimillion dollar companies alike – before he founded a family business-turned-empire. His sons Kent Jr, Chris, and Brett have worked alongside him, as well as leading successful ventures of their own. Real estate trends, managing towards efficiency, excellent customer service and leading the industry are what fuel him. Over the years, the skills he's come to value are financial acumen, honesty, and forging new paths in business, investing, and winning.