It's not easy getting started—on anything. Buying your first investment property. Opening the doors of your first business. Taking that scary next step toward financial independence.
No matter the industry, getting started is the toughest part, and as a beginner entrepreneur, you are guaranteed to encounter a lot of barriers to entry—starting with building trust.
When trying to get their feet off the ground, new businesses often don't have the experience to warrant our trust. As consumers, if we have the choice, we're going somewhere tried and true with our business, and we're often more interested in new companies who are doing something new and different.
I have news for you.
When starting a business, you're going to encounter a lot of firsts. If you're going down the difficult path in search of something more meaningful to you, I would go so far as to say you'll see endless barriers, which means endless firsts.
Why? Because that's the cost of winning. In order to make it past the first step, you've got to be ready with a vision and knowledge that whatever journey you are starting can be done. You can't focus on the constraints, limits, or boundaries you have to cross. You just need to have passion, set daily goals, and move forward with a "get it done" attitude.
Back in the Grocery Days
I'm going to take it way back to a time when paying with a credit card was rare and online payments were unheard of technology. While we use modern payment technology today of course, I knew when I was starting out that I had to instill trust with clients by delivering on-time rental payments from residents in their investment properties.
As a newcomer in real estate and property management, I had just left the grocery business and I knew from that experience that I should never accept another personal check from a customer again in my new industry.
In a lot of ways, I was leaving at the tail end of the idyllic, good old days of grocery stores. Ladies coming in with their glass bottles were met at the door, so that we could swap out their Coca Colas without headache. Team members met shoppers at the end of the register in order to usher them through check out. No shopper ever took their own bags to their car.
That doesn't mean everything about those days were idyllic. Nothing about keeping up that level of service was easy or stress-free, and, on top of all my other duties, I spent too many mornings calling up the previous day's shoppers who'd written us bad checks. I never wanted this to be a constraint to my business again.
So, when it came time for me to implement payment procedures for investment properties that we were managing, I made my line in the sand clear: no personal checks.
That was a strange move for someone breaking into the investment property management industry.
Really? You don't even take cash?
No!
That was likely the first time any of those residents had ever lived in a place that required money orders for monthly rent payments. It drove home, though, that we were a serious business that worked with quality residents, and we weren't going to let the little things slide.
It also set an expectation of trust for our investors, who could see we were different from our competitors. If you work with us, you're going to get a return on your investment. No two ways about it.
No Shame in the Sales Game
One of my team members recently made reference to those signs you see on the corners of most busy city streets: Cash 4 Homes! We take over payments! Cash... Fast!
Little did they know that we got our start with similar, gimmicky "bandit signs."
I put them on wooden light posts myself. When people would take them down, I'd come back with more. The second or third time this happened, I backed my truck up to the post and put my sign up twelve feet high.
Try telling me I can't, and I'll show you I will.
Sometimes you start out with a cardboard sign. That doesn't mean you won't someday have yours on the side of a building, or in brick on the nice side of town. Always think big and never limit yourself.
I take special care to remind our newer team members about where we come from, so that they truly understand how we got to where we are now.
Every step along the way was difficult. Risky. A first. Even if it was just a first for us.
That hasn't changed. When a member of my team gets flustered because I move up their goal mid-year, I say, "You've proven you can hit this. Now, show me you can hit that." I often tell people to "think bigger."
All it takes is doing it once. Breaking through and reaching that goal you never thought you were capable of achieving. Then you'll get addicted to more and more personal firsts.
When The Storm Breaks
Not all breakthroughs are ones you chase after. Sometimes, they find you.
This year, when record-breaking ice and snow storms hit states across the mid-south and southeast, we were in new territory. We were managing assets in markets across Texas, Arkansas, Missouri, and Tennessee affected by the weather, and our phones were ringing off the hook with scared residents and worried investors.
We didn't have time to look around and see what our competitors were doing. We had to act.
We put together a task force that worked day in and day out to assess and address each problem. All properties under management were divided and assigned to team members who reached out to every resident every day. We asked, are you safe? Can we put you up in a hotel until the issue is fixed?
COVID-19 required us to follow the same protocol, albeit virtually. Same for when major flooding or hurricanes hit our markets. Each time, a task force was on round-the-clock duty—weekends too—to help residents and investors weather acts of God or nature.
Our plan was simply prioritizing people. A happy result was the continuation of income for us and our investors throughout the worst of the pandemic in 2020.
After decades in business, I can say with confidence that there's never going to be smooth sailing. If you're scared of the new and unknown, you won't make it past the storms.
Commit to The Grind
Life isn't a montage of highs and lows before the big win. All the little moments, when you're tired of forging new skills or looking for new angles, are what add up to success.
I don't think I'll ever get tired of doing something for the first time, or being the one to think of doing it first. I know I will never get tired of being first place.
How you get from one to the other is what will define your grind. Remember, in your business, you're in control.
Don't be afraid to break through. Often times, barriers are there only because no one thought to cross them.
Until next time,

Kent Clothier
Chief Grind Officer


About Kent Clothier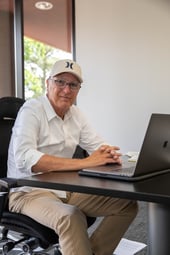 Entrepreneur, Real Estate Investor, Husband, Dad, and Granddad. Through decades of personal experience, and a few other titles, Kent built a strong community around him at REI Nation. But it didn't start there. It took 22 years of entrepreneurship – of losing money and making money, building small businesses and multimillion dollar companies alike – before he founded a family business-turned-empire. His sons Kent Jr, Chris, and Brett have worked alongside him, as well as leading successful ventures of their own. Real estate trends, managing towards efficiency, excellent customer service and leading the industry are what fuel him. Over the years, the skills he's come to value are financial acumen, honesty, and forging new paths in business, investing, and winning.