People often ask me about the achievements I've made over the course of my career in business, especially for someone with no college education or special training. I didn't have many of the advantages of the businessmen we often put on a pedestal, so how did I do it?
All the business talent I have, I earned. It boils down to effort. I simply had to outwork everyone. Which means putting in the effort, putting yourself out there, and knowing you might fail. Trying your hardest every day to get better. Failing and trying again.
That's the only "secret formula" I've ever learned.
I recently read Geoff Colvin's Talent is Overrated: What Really Separates World-Class Performers from Everybody Else, and it affirmed something that my several decades in business have led me to believe. You're not special. I'm not special. Yet everyday people, people who weren't born with any innate skill, can become world-class in their field.
How?
Let's talk about it.
Talent Takes Time
"Great performance is in our hands far more than most of us ever suspected."
The way Colvin talks about growing talents is through something he calls deliberate practice. In other words, it takes time and effort to develop proficiency in something—anything—but it also takes intentional time and effort.
It takes a willingness to learn how to learn, and though I never enjoyed school myself I've come to realize how important it is to be a student of your passions. (Even my son Chris has talked about this recently on The Grind Podcast)
This is true in our personal pursuits, but the professional results are what were particularly interesting to me.
By now, I've talked repeatedly about my mission to take team members to the max of their potential. This is an idea that's often discussed in the book, because, by definition, talent doesn't have a beginning, a middle, or an end. It's an ongoing cycle that leads to better work, better company culture, and better results.
When it comes to your company, developing talent is a two-way street. You need to be unafraid to keep challenging your team members beyond their current capabilities, even when they can't see how. Give them carefully chosen assignments. Ask them to go deeper, then listen to their questions. If your company talent philosophy is working, you'll have a team of people who are ready to take their talents to the next level. They'll challenge themselves and ask for more. Hiring with these principles in mind is key.
I appreciated this included quote from John Rice, Vice Chairman of General Electric: "Leadership capability can be evaluated on day one of employment." I couldn't agree more.
Jack-of-All-Trades
To me, talent is also not just about developing ability in one specific area. Sure, put in enough time and effort you can become incredibly good at the job at hand. But there's also something to be said for developing your talents by trying new things.
That is how some of our top executives at REI Nation and PPMG came to be there. If you'll recall from one of my past letters, Nate Gray is our VP of Property Management, Customer Service, and Business Development. He got there by putting in months, if not years, in different areas of the business. He manages about 35 people, and he's done every one of those jobs himself.
It's also what can frustrate new staff members when they look around and see that our job titles aren't exactly like they are at other companies. They encompass so much more than a few words can convey, including being accountable to our stakeholders, each in their own way.
I admire our staff members with diverse talents and experiences because I see myself in them. As you've probably put together by now, I didn't come to lead the nation's largest turnkey real estate company because all of my business experience was in real estate. I do know sales, though, and I know customer service. I know what it's like to be a resident and a manager. I know how to look for the details and how to make one dollar into two. When you put the pieces together, there's our company.
Developing your own talent starts with putting yourself out there, trying things that you've never done before. That doesn't have to stop once you've gained the skills you set out to cultivate. So what if you dominate when it comes to fixing up cars? Does that mean you can't try making videos, or learning how to cook?
I've told my team members this so many times that it's made in into our formal performance review process: if there's an aspect of the company you want to learn more about, tell us! The doors is always open when it comes to fostering new talents.
Commit to The Grind
I encourage you to fill your reading library with books like Talent is Overrated, because it's one of those books that will help you rethink what's possible. Bonus, it will also help keep you humble.
Geoff Colvin's book is interesting and highly researched. I almost wish I'd known him back when he was putting it together—I bet we would have had a lot to talk about. I might've even made a cameo.
Readers, don't give up because you don't think you have it in you. You do. You just have to work to bring it out.
Until next time,

Kent Clothier
Chief Grind Officer
About Kent Clothier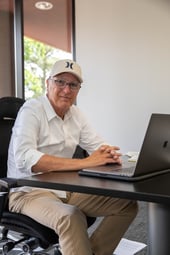 Entrepreneur, Real Estate Investor, Husband, Dad, and Granddad. Through decades of personal experience, and a few other titles, Kent built a strong community around him at REI Nation. But it didn't start there. It took 22 years of entrepreneurship – of losing money and making money, building small businesses and multimillion dollar companies alike – before he founded a family business-turned-empire. His sons Kent Jr, Chris, and Brett have worked alongside him, as well as leading successful ventures of their own. Real estate trends, managing towards efficiency, excellent customer service and leading the industry are what fuel him. Over the years, the skills he's come to value are financial acumen, honesty, and forging new paths in business, investing, and winning.