I can tell that a lot of the newer team members in our company are hungry. How do I know? Because this was one of the questions asked at our most recent All Hands Meeting:
What are you looking for in the next generation of leaders?
Wow.
I was so impressed by this question that I needed a moment to think it over. Leaders influence teams, so my answer in that moment was really important. In the meantime, I asked fellow members of our executive team to chime in with their own answers. They were quick to give their response in front of everyone in our company, and I think it provided a helpful lesson for those listening—and anyone reading now.
A Proactive Planner
There are many typical qualities of leadership that were shared around the room. Being a team player. Following through and being true to your word. Going above and beyond.
The one that was echoed most often was the ability to think ahead.
We want everyone, not just our executive team, to be thinking about where our company is headed. We want to hear ideas from every angle. We want people who puts themselves and all of us in the way of opportunity and growth.
A telltale sign that a team member is proactive? Ask their manager.
Are they easy to manage? Do they manage up? Do they spend time asking tough questions, not just being asked tough questions?
Thinking ahead isn't limited to someone's professional life. Often, being a balanced person, knowing and walking the line between work life and home life, it all takes just as much effort and planning. Around here, we expect family to be #1 and work to be runner up. We want REI Nation to be a rewarding part of our team members' full lives.
A Peer Leader
Our VP of Property Management and Customer Service then mentioned something that is often overlooked. A leader is someone who is not only noticed by their managers but also by their peers.
We all know those situations in which someone is praised by their manager but disliked by their team. Why? Maybe they're all talk and no action. Maybe their manager just happened to be in the right place at the right time, taking one-time success as a testament of their abilities. Whatever the case might be, often your peers have a more realistic sense of who you are and what you bring to the table because they're the ones shouldering the work with you day in and day out.
If your fellow team members have positive things to say about you, and if your contributions make their work easier or more productive, then you're someone to look out for.
A Well-Rounded Learner
After listening to members of my executive team, it was my turn to chime in.
I shared how, back in my grocery days I was dead set on learning every aspect of the business: from wholesaling, warehousing, distribution, transportation, all the way to the financial bottom line. As a result, no one knew the store better than I did, and when it came time for a management-level promotion I was the undeniable choice.
I shared this because I encourage any team member who wants to explore different skills and interests to do it while working for me. Why? Because then they feel challenged and developed, and I in turn see a team member who shows perseverance and flexibility. In other words, we're all happy.
It's a question we ask every team member during every performance review: what other teams in the company are you interested in learning more about? The ones that have a clear answer are often the ones who have clear goals for their professional life. That kind of vision makes for a relentless winner.
Commit to The Grind
I can't say what the future will hold for the next generation of leaders. I don't know what kind of challenges they'll face, or how to help them edge out competition that might not even exist yet. All I know is what the last few decades in business have taught me.
That is, you can't go wrong with confidence, teamwork, and drive.
Until next time,

Kent Clothier
Chief Grind Officer
About Kent Clothier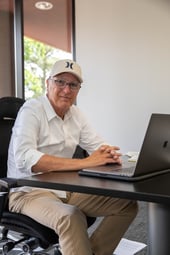 Entrepreneur, Real Estate Investor, Husband, Dad, and Granddad. Through decades of personal experience, and a few other titles, Kent built a strong community around him at REI Nation. But it didn't start there. It took 22 years of entrepreneurship – of losing money and making money, building small businesses and multimillion dollar companies alike – before he founded a family business-turned-empire. His sons Kent Jr, Chris, and Brett have worked alongside him, as well as leading successful ventures of their own. Real estate trends, managing towards efficiency, excellent customer service and leading the industry are what fuel him. Over the years, the skills he's come to value are financial acumen, honesty, and forging new paths in business, investing, and winning.