I tell people regularly that the path I've taken to success could have only happened with hard work and putting my nose to the grind daily. No get rich quick scheme helped me build my businesses.

In this letter, we are going to talk about the reality of tough work with one key takeaway:
Every Opportunity Isn't Worth Taking
Today, with the right marketing, anyone can sell themselves as experts on anything. For example, being a real estate guru. Just flip on HGTV if you want to see what I'm talking about - that channel's full of half-hour heroes who make buying and selling real estate look so easy it would be foolish not to jump in with two feet...and your entire life's savings.
That's reality TV for you. Now, I also make it a point to give credit where credit is due, and there are some nice folks out there making quality feel-good shows. But that doesn't mean any of it's real.
Today, we want everything to be fast, cheap, and good, and as I've learned in the renovation business, at best you get to pick two of those.
The truth is, the real estate business is nothing like you see on TV. How do I know? Because we almost had a show...
Business Has No Commercial Breaks
About 8 years ago, when we were Memphis Invest, a TV network tapped us to put together the makings of a reality show. They liked that we were a family working together at a fast-paced, high stakes, and highly lucrative business operation.

We put our heads together, talked about the opportunity, and decided it could be fun. They sent out a film crew to follow us around for a while, and then they chopped up a week's worth of footage into a few minutes of video and invited us to New York City to review the pitch.

At the meeting in NYC, we watched our show's "sizzle reel." And, boy, did it sizzle, but there wasn't much real about it. They showed all the dramatic moments and almost none of the day-to-day business behind the operations. For example, one proposed storyline was all about how we were competing with another turnkey company who was spreading rumors about the way we do business. You know us, we only compete with ourselves and we operate with integrity. Any show that depicted this kind of storyline had no chance at being authentic.

The truth is that I may get loud, intense, and passionate stretching people to be their best but I'm also going over KPI's with my leadership team every day at 1 p.m., reading every survey from owners and residents, reviewing every deal, and ensuring every team member's needs are met. Those moments aren't flashy but they are reality.

In the end, they decided that we were too much business and not enough drama. We considered that a compliment and got back to doing what we do best.

The reality is, the show would have been a distraction. In business, there are no commercial breaks or cuts for dramatic reactions. Running a successful business requires laser-focused attention, and I always give that to our operations and our people.

Key Tip: every opportunity isn't worth taking
Sometimes the best thing that can possibly happen for your business, your future, and frankly your sanity, is for someone to tell you no. Move on, be confidence, focus mentally on the operations in front of you, and get back to striving for excellence.
How do I know every opportunity ISN'T worth taking? The numbers don't lie.

Be the Best at What Matters Most
Today, instead of taking time filming a show, I am continuously checking on our residents, owners, and their properties - we have 6,800 currently under management, so this is no small undertaking. If there's a moving truck at a property on a Friday, I want to know why there's not a sign in the yard and a lockbox for showings on the door by Saturday.

Be relentless. That's how you succeed in business. It's no secret that I like to be involved with every detail of our business. It's also no secret that this is not an easy place to work. Knowing that, I keep a close eye on the careers and potential of our team members. Show up, do the work, exceed expectations, and good things will happen for you.

Feel like you're hitting an opportunity ceiling? Then tear the roof off! That's how you Grind and become the best of the best
If we had been on TV, it would have been fun. And it might have changed the trajectory of our company in unknown ways. At the end of the day, we run a serious business and are serious about the people who choose to invest with us. I like that our owners and residents can feel confident knowing our attention is 100% on them.
Commit to The Grind
One of my favorite things to do is conduct tours with property owners when they come into town. We bring them in, tour our buildings, discuss our processes, and meet our teams. I want them to know that this is the real deal here. I guess it's our own little "reality show."

It's tempting to believe the pretty people on your favorite show or YouTube series when they say that the dream of working in real estate is not only possible, but easy. So many people with the same message - surely they can't all be wrong, can they?

I'm not here to tell you to delete your TiVo, or whatever people use to record these days. I just want you to commit to your grind with your eyes open. Don't blink away the struggle or get too dazzled by the sparkling before-and-after shots. Focus on reality, and you'll get where you want to go.

My advice is to work hard, concentrate on the details, be proud of your people, and roll up your sleeves for some hard, messy work. That's the real way to reach people.

Until next time,

Kent Clothier
Chief Grind Officer
About Kent Clothier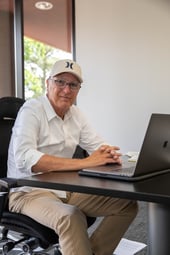 Entrepreneur, Real Estate Investor, Husband, Dad, and Granddad. Through decades of personal experience, and a few other titles, Kent built a strong community around him at REI Nation. But it didn't start there. It took 22 years of entrepreneurship – of losing money and making money, building small businesses and multimillion dollar companies alike – before he founded a family business-turned-empire. His sons Kent Jr, Chris, and Brett have worked alongside him, as well as leading successful ventures of their own. Real estate trends, managing towards efficiency, excellent customer service and leading the industry are what fuel him. Over the years, the skills he's come to value are financial acumen, honesty, and forging new paths in business, investing, and winning.