All investing comes with risk. Whether you're in real estate or stocks, you know it to be true. Perhaps it's what's held you back from investing in the first place.
A major indicator of how successful you'll be as an investor—and in particular how well you'll mitigate all the risks involved—is due diligence. As a company that works with investors from all around the country, we preach due diligence with every opportunity we get. With virtual investing on the rise, we don't want to see smart, well-intentioned people fall prey to scams.
One aspect of due diligence is meeting the people you're doing business with. Who are they? What do they value? How do they answer your questions? What questions do they have for you? Are they the BEST in the business?
That's why today I want to talk about something that matters a lot to me: office visits. Every time a potential client or long-term investor come through our door, it's an opportunity put all of our core values into motion. We get to fully display who we are and what we have in common with our clients. It's how we show we are the "best in class" in our industry.
Let me explain why that's so important.
We're Just Like You
If you're new to The Grind, you may be unfamiliar with REI Nation's origin story, but here's the short version: we began working with real estate investors because we are investors ourselves.
I never set out to build a company like this one. Real estate investing was meant to be a hobby for me!
If you know me, though, you know I don't do things halfway. After learning all I could about the industry, I became someone that people wanted to learn from. The trust of one investor led to the trust of more and more.
Now, here we are, and every single thing that led us here was based on the premise of our personal experience. Would I buy this investment property? Would I want to venture into this market? How often would I want to hear from my property management team? What's important to me in managing a property with excellence?
We're ready to face any question or concern that arises from a potential client, because our operations are based on data that proves that our approach—a personal touch and particular attention to details—works.
Four Seasons founder Isadore Sharpe put it well:
"The reason for our success is no secret. It comes down to one single principle that transcends time and geography, religion and culture. It's the Golden Rule – the simple idea that if you treat people well, the way you would like to be treated, they will do the same."
The Face of Our Company
When you think about a CEO, a bonafide business leader, what comes to mind? Are they clean cut, always spotted in a nice suit? Are they well educated and well spoken? The face of their company?
Often times, the typical CEO fits into these buckets. As you've probably guessed by now, though, I do not.
That's why I like having my team by my side when it comes to welcoming visitors to our company. I like to meet every visitor that comes through but they should really meet with the people who they will be working with every day once they invest with us.
Your tour guide should be your portfolio advisor, the person who's getting to know you and your goals and who's personally overseeing your access to viable investment properties. They should be the one to introduce you to our acquisitions team, our closings team, our customer service team, our property management team, and so on. They'll know what kind of questions you have and how to guide you to the right person for answers.
That's not to say I'm hiding behind my team. I may not have a college degree, and I may not wear a suit if I don't have to, but I'm confident in my experience and accomplishments. I just know that, if our potential clients want to know why this company is special, they shouldn't just talk to me. They should talk to everyone who makes our mission possible and see that we are the best in class with their own eyes.

The experience our clients have with us is not based on one smooth-talking person. It's a culmination of hundreds of small interactions with a team of people that come together to make their passive income portfolio a success.
Commit to The Grind
If you've heard me say it once, you've heard me say it a hundred times: inspect what you expect. That phrase is not just limited to houses.

Never be afraid to ask people the hard questions, least of all me and my family.

As the founder of JCPenney once put it, "Courteous treatment will make a customer a walking advertisement." If someone declines the opportunity to meet you in person, you have to wonder if there's a reason they're only courteous over the phone.
Until next time,

Kent Clothier
Chief Grind Officer
About Kent Clothier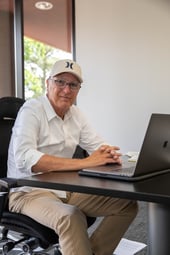 Entrepreneur, Real Estate Investor, Husband, Dad, and Granddad. Through decades of personal experience, and a few other titles, Kent built a strong community around him at REI Nation. But it didn't start there. It took 22 years of entrepreneurship – of losing money and making money, building small businesses and multimillion dollar companies alike – before he founded a family business-turned-empire. His sons Kent Jr, Chris, and Brett have worked alongside him, as well as leading successful ventures of their own. Real estate trends, managing towards efficiency, excellent customer service and leading the industry are what fuel him. Over the years, the skills he's come to value are financial acumen, honesty, and forging new paths in business, investing, and winning.